A bridal lehenga is the most popular outfit among girls. Every girl wants to look stunning in her wedding outfit, and what could be more graceful than a wedding lehenga to turn heads. Remember the days when girls used to prefer the traditional red color for the wedding. Well, that's the thing of the past. Nowadays, girls are experimenting with different colors, including neon.
Fashion evolves with time, making space for designer wedding lehengas for brides. The new-age bride is boldly shunning the traditional option and choosing a mix and match pattern to express her style.
Read through this blog to familiarize yourself with different bridal lehenga styles. Here you go:
Banarasi Bridal Lehenga
You are one of those brides who want to keep it traditional yet choose a contemporary option. For you, a Banarasi bridal lehenga will work wonders. With elegant embroidery work and heavy borders, you're sure to look like a vision. You can choose a mixed color lehenga or an outfit with color contrast. Either way, you will have a better choice than wearing a traditional outfit. So, shun those velvet styles and don a Banarasi lehenga – it's your wedding, make it memorable!
Punjabi Bridal Lehenga
If you had been to a Punjabi wedding, you would have noticed the bride wearing a ravishing bridal lehenga – not only the bride but the bridesmaids prefer eclectic designs when it comes to complementing the bride's outfit. It's your time now to choose a full-embroidered wedding lehenga to make a style statement. Don't forget to choose stylish kaliras to grace your outfit.
Heavily Embellished Bridal Lehenga
If you don't have any particular design in mind, you can choose a heavily embellished lehenga decorated with shimmer and shine. What's best about such lehengas is that you can customize them according to your style. You may choose a designer blouse with golden strips or a lehenga with heavy Zari work. Whatever the case, you are going to look like million bucks.
Bollywood-inspired Bridal Lehenga
If you're smitten by the lehenga design that Anushka Sharma chose for her wedding, you should not lag behind and pick a similar style. Or, if Deepika Padukone's wedding ensemble made you go swoon, make haste to choose a bridal lehenga that would make you imitate her fashion. Bollywood lehengas are available in plenty of designs. You can explore different varieties before you buy one for yourself.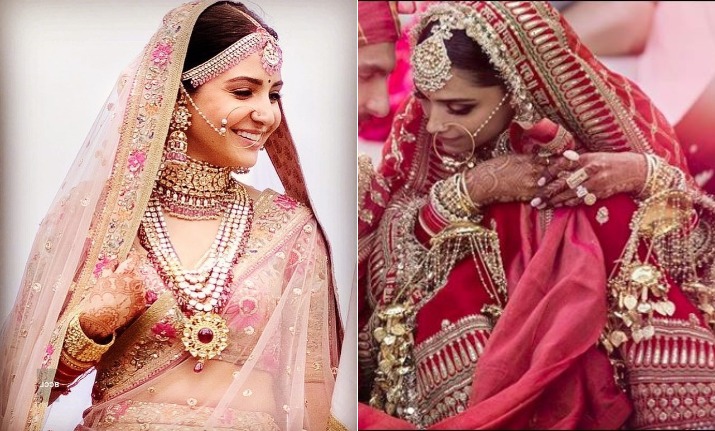 Now that you know what to wear at your wedding, it's time that you step ahead and stroll the market for the perfect bridal lehenga.
If you're looking for bridal lehengas online, you can visit the Readiprint Fashions store and browse through hundreds of colors and styles. You can make your wedding shopping fun with your bridesmaid creating a similar collection to make your wedding a memorable event.
Read Also – Hot Fashion Trends To Cozy-Up Your Wardrobe In Winter 2020-21